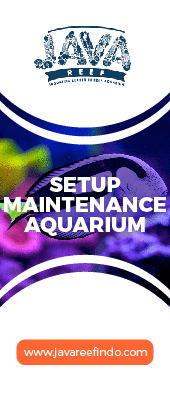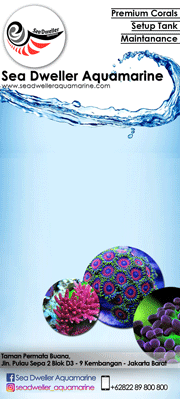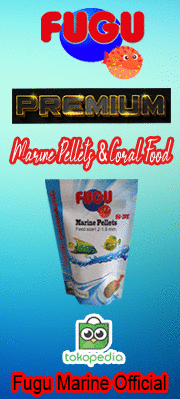 +18
denovian
Phoenix
rully chank
Fikri
zonaikan
Nagoya
Sidi
Barista7105
Running on empty
Anaknemo
bambang
mybeibydom
#B-Nineteen
angelbanget
Fishonly
kiezzz
Giest
handy77
22 posters
Page 2 of 2 •
1, 2
First topic message reminder :
Dear para Senior,
Ijinkan saya share akuarium saya.  Sebenarnya tujuan share adalah mau minta saran dari Para Senior di sini.   Jadi mohon maaf mungkin tulisannya cukup panjang.
Udah ada ampir tiga tahun nge-reef dan sepanjang tiga tahun tersebut, udah banyak bongkar ulang (ada kali 6 kali), coba ini dan coba itu.   Udah kenyang dan mulai ngerasa frustasi dengan banyak masalah dari mulai white spot ampe Nitrate tinggi.   
Terus terang udah banyak duit yang keluar buat alat, additive, gantiin koral/ikan yang mati tapi kok akuarium saya nggak bisa kayak akuarium para senior di sini ya yang parameter airnya yang bagus dan koral yang awet dan berwarna warni?  
Berikut kondisi terakhir akuarium saya yang masih ada aja masalahnya:
1.  Nitrate masih tinggi sekitar 25 (pake salifert test).  Phosphate nggak pernah ukur tapi klo ngeliat ada cyano dan algae ya berarti mungkin tinggi juga.   
2.  Beberapa tempat tumbuh cyano (di foto kurang terlihat dan juga karena baru saya sedot pas ganti air)
3.  Acropora warnanya jadi coklat (mungkin karena Nitrate tinggi)..beberapa juga udah mati tp ada juga yang awet padahal udah maintain calcium di 420 tapi ya tetep aja ada yang mati
Top up pake air amidis yang katanya air RO jadi harusnya bagus ya? tapi entah kenapa  masih ada cyano and algae.   Kalo kasih makan pake pellet dan cara saya mirip2 target feeding (bukan dengan lempar pellet sekaligus banyak), diusahakan dilemparkan sedikit2 ke arah mulut ikannya jadi harusnya nggak banyak yang kebuang tapi entah kenapa juga tetap Nitrate tinggi.  
Untuk nitrate tinggi, udah coba pake red sea NoPox.  Udah ada seminggu tapi Nitrate tak kunjung 0.   Coba juga Upflow Algae Scrubber (kalo saya baca katanya ampuh nurunin Nitrate and Phosphate) tapi boleh dibilang gagal karena yang ditumbuhi algae bukan jaringnya tapi malah kacanya (capek deh...)
Berikut fotonya dan please saran-saran dari Senior sangat diharapkan:
1.  Gambar depan
[You must be registered and logged in to see this image.]
2. Gambar Belakang
[You must be registered and logged in to see this image.]
 3.  Cyano (coklat2 nggak terlalu keliatan karena abis disedot)
[You must be registered and logged in to see this image.]

handy77

Small Fish





Posts

: 27


Points

: 2755


Reputation

: 1


Join date

: 2014-05-11



---
Dear para Senior,
Pertama-tama selamat hari raya idul fitri buat yang merayakan.  mohon maaf lahir bathin.
Iseng pengen update kondisi tank saat ini.  Isi tank di foto2 sebelumnya (terakhir April 2015) udah nggak ada lagi gara2 ikan mati semua terkena wabah WS (yang dibawa ama morish idol yang koit gara2 nggak mau makan).  Akhirnya (lagi2) re-work isi tank.  Nggak re-work2 amat karena rockscape kurang lebih masih sama (cuma dikit ubah).
Terlampir foto kondisi sekarang untuk mungkin akan jadi kenang2an karena mo ditinggal agak lamaan (dan nggak ada yang urus, jadinya pasrah klo ntar pada mati koralnya).   
Kondisi tank sekarang udah mo jalan dua tahun semenjak Juni 2015 tanpa diutak atik lagi.  Penampakan sbb:
Tampak Depan
[You must be registered and logged in to see this image.]
Beberapa foto acro dan ikan
[You must be registered and logged in to see this image.]
[You must be registered and logged in to see this image.]
[You must be registered and logged in to see this image.]
[You must be registered and logged in to see this image.]
[You must be registered and logged in to see this image.]
[You must be registered and logged in to see this image.]
[You must be registered and logged in to see this image.]

handy77

Small Fish





Posts

: 27


Points

: 2755


Reputation

: 1


Join date

: 2014-05-11



handy77 wrote:Dear para Senior,

Pertama-tama selamat hari raya idul fitri buat yang merayakan.  mohon maaf lahir bathin.

Iseng pengen update kondisi tank saat ini.  Isi tank di foto2 sebelumnya (terakhir April 2015) udah nggak ada lagi gara2 ikan mati semua terkena wabah WS (yang dibawa ama morish idol yang koit gara2 nggak mau makan).  Akhirnya (lagi2) re-work isi tank.  Nggak re-work2 amat karena rockscape kurang lebih masih sama (cuma dikit ubah).

Terlampir foto kondisi sekarang untuk mungkin akan jadi kenang2an karena mo ditinggal agak lamaan (dan nggak ada yang urus, jadinya pasrah klo ntar pada mati koralnya).   

Kondisi tank sekarang udah mo jalan dua tahun semenjak Juni 2015 tanpa diutak atik lagi.  Penampakan sbb:

Tampak Depan

[You must be registered and logged in to see this image.]

Beberapa foto acro dan ikan

[You must be registered and logged in to see this image.][You must be registered and logged in to see this image.][You must be registered and logged in to see this image.][You must be registered and logged in to see this image.][You must be registered and logged in to see this image.][You must be registered and logged in to see this image.][You must be registered and logged in to see this image.]
Cakep om tanknya

viper

Egg Fish





Posts

: 24


Points

: 2769


Reputation

: 0


Join date

: 2014-04-11



handy77 wrote:Dear para Senior,

Pertama-tama selamat hari raya idul fitri buat yang merayakan.  mohon maaf lahir bathin.

Iseng pengen update kondisi tank saat ini.  Isi tank di foto2 sebelumnya (terakhir April 2015) udah nggak ada lagi gara2 ikan mati semua terkena wabah WS (yang dibawa ama morish idol yang koit gara2 nggak mau makan).  Akhirnya (lagi2) re-work isi tank.  Nggak re-work2 amat karena rockscape kurang lebih masih sama (cuma dikit ubah).

Terlampir foto kondisi sekarang untuk mungkin akan jadi kenang2an karena mo ditinggal agak lamaan (dan nggak ada yang urus, jadinya pasrah klo ntar pada mati koralnya).   

Kondisi tank sekarang udah mo jalan dua tahun semenjak Juni 2015 tanpa diutak atik lagi.  Penampakan sbb:

Tampak Depan

[You must be registered and logged in to see this image.]

Beberapa foto acro dan ikan

[You must be registered and logged in to see this image.][You must be registered and logged in to see this image.][You must be registered and logged in to see this image.][You must be registered and logged in to see this image.][You must be registered and logged in to see this image.][You must be registered and logged in to see this image.][You must be registered and logged in to see this image.]
Superb buat tanknya

colagecko

Egg Fish





Posts

: 19


Points

: 2535


Reputation

: 0


Join date

: 2014-12-08


Age

: 35


Location

: Puertorico Golden water



Page 2 of 2 •
1, 2
---
Permissions in this forum:
You
cannot
reply to topics in this forum