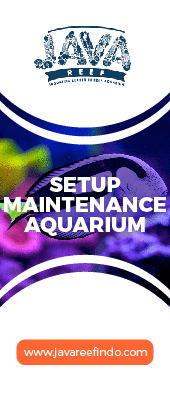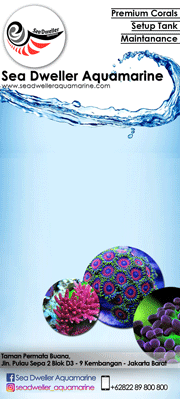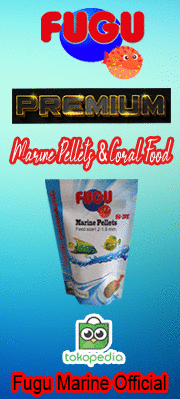 +3
Batavia_Aquatic
tonyz
rheinhard
7 posters
Page 2 of 2 •
1, 2
First topic message reminder :
NOTE: KLIK PADA MASING2 SPOILER UNTUK MENAMPILKAN FOTO
Hallo reefer sedunia, salam kenal.
Di thread pertama saya ini, saya ingin sedikit berbagi kisah, suka dan duka perjalanan pico tank saya, yang saya coba start pada tanggal 16 Maret 2017.
Spesifikasi:
Spesifikasi tank:

1. Main tank: 40x40x40 cm

2. Sump: 35x35x35 cm, 2 sekat

3. Lighting: -Main tank: MantaReef LED (Maret- Desember 2017), 

                                   AI Hydra 26 HD (Januari 2018- sekarang).

                 -Sump:       DIY LED 21 Watt full spectrum

4. Skimmer: Bubble Magus C 3.5

5. Pasir: JBL Sansibar White mix pasir laut asli

6. Liverock: 4 bongkah ukuran sedang, scaping sudut tank

7. Filter media:

  -Filter sock

  -Bio ring 

  -Seachem matrix

  -Pasir

  -Chaeto

  -Bakau

  -Chaeto

8. Wave maker: 1 pcs Jebao SW 8, dan Jebo mini

9. Dosing Pump: 2 pcs Jebao DP 4

10. Overflow Box: By San Reef Aquatic

11. Cooler: Kipas booster pada awal setup hingga awal 2018, upgrade ke Chiller Resun CL 280

12. Auto Top Up: By San Reef Aquatic

13. Auto Top Up container: Gex LL kapasitas +-60 liter

14. Starting Bacteria: Biodigest tiap 14 hari masing-masing 1 ampul



First Cycling 16 Mar 2017:
First Cycling 16 Mar 2017:
21 Mar 2017:

Mulai bening
29 Mar 2017:

Fase algae blooming
Algae Blooming: Algae blooming merupakan salah satu tahapan dalam proses cycling. Tak perlu panik atau latah dengan melakukan hal hal tak wajar karena tank banyak lumutnya, biarkan saja lumut tersebut tumbuh, karena jika nanti proses cycling selesai, maka lumut-lumut tersebut akan hilang dengan sendirinya. lebih lengkap mengenai proses cycling bisa masuk ke thread 
[You must be registered and logged in to see this link.]
.
Setelah fase cycling terlampaui, dengan ditandai mulai hilangnya alga pada tank, dan nilai Nitrate serta Phospate yang menurun. Pada tahap ini kita sudah harus mulai siap modal untuk test kit, paling tidak untuk Nitrate, Phospate dan Big 3 (Calcium, Magnesium dan KH), karena parameter ini sangat vital pada tank rumahan. 
Full Tank Shoot pertama, 18 Mei 2017:
Tank Crash:
Bad day everrr. 27 Agustus-17 September 2017, pergi ke luar kota. Dannn pulang dengan keadaan tank seperti ini. Dugaan utama adalah berawal dari matinya macro algae (gak tau namanya apa, warna merah mirip rumput laut), cukup besar dan saya posisikan di main tank bagian agak belakang yang berbayang, niatnya pengen skalian untuk display, apesnya doi malah mati. Pesan moral: Jangan iseng masukin biota apapun tanpa tau karakteristik dan kebiasaannya.
9 Oktober 2017:

Perlahan membaik, 9 Oktober 2017
Progress recovery coral
Coral yang mengalami bleaching karena kondisi air yang kurang baik, perlu perlakuan ekstra agar dapat memunculkan kembali warna aslinya, yaitu dengan melakukan water change secara rutin tiap minggu sekitar 20%, serta penambahan additif untuk mengembalikan serta meningkatkan warna coral. 
Perkembangan Coral:
15 Desember 2017:




April 2018
April 2018:




23 April 2018
23 April 2018:

Brain coral mulai over size sehingga perlu dipindahkan

Frag pertama Montipora Digitata
29 April 2018
29 April 2018:
14 Mei 2018
14 Mei 2018:

Brain Coral Spot

Mushrooms Spot

Polyp Spot
18 Mei 2018
18 Mei 2018:

Kondisi tank terakhir. Frag rack dipindah ke sump biar lebih rapi 
31 Mei 2018
31 Mei 2018:
Updated soon
Last edited by eriquehehehe on Sun 29 Jul 2018, 15:25; edited 17 times in total

eriquehehehe

Small Fish





Posts

: 29


Points

: 2476


Reputation

: 0


Join date

: 2017-04-01


Location

: Jakarta Selatan



---
eriquehehehe wrote:
Alhamdulillah bisa tercapai suhu 25 om. 23-24 aja bisa kok. Hehehe. Sangat mungkin flownya turun segitu om. 2800 lph itu kan flow max pada head nol. Kalau sump d bawah dan main tank ada 100 an cm d atas head nya aja udh 1 meter pasti udh ga nyampe 2800, ditambah gesekan selang dan sistem d dlm chillernya, pasti menurun drastis om
Fotonya kalau boleh diposting
Posisi chiler n pompa baliknya.
Terus utk dosing pumpnya apa aja dipake. Kayanya difoto semua.pompa kepake.

Key

Egg Fish





Posts

: 5


Points

: 2037


Reputation

: 0


Join date

: 2018-05-22




eriquehehehe

Small Fish





Posts

: 29


Points

: 2476


Reputation

: 0


Join date

: 2017-04-01


Location

: Jakarta Selatan



Ayo om eriq upgrade tanknya

indra nyimak

Moderator





Posts

: 364


Points

: 2940


Reputation

: 15


Join date

: 2016-12-04


Age

: 40


Location

: dki jakarta



Ini mau ikutan TOTY juga ato nggak?klo mau ikutan harus update foto dr bulan juni keatas berikut histori awalnya ya
Jgn lupa bubuhi TOTY IFC 2018 di judul

Batavia_Aquatic

Global Moderator





Posts

: 706


Points

: 3928


Reputation

: 52


Join date

: 2015-08-31



Page 2 of 2 •
1, 2
Similar topics
---
Permissions in this forum:
You
cannot
reply to topics in this forum