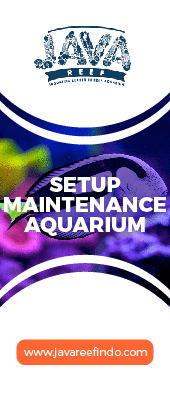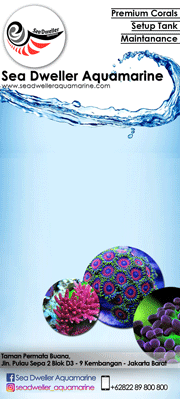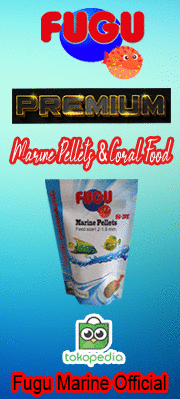 ABOUT Yayasan LINI
Established in January 2008 by a small group of dedicated professionals, LINI is one of the few Indonesian non-profits currently working towards the development of community-based marine conservation areas to promote sustainable fisheries in Indonesia.
LINI works to support the conservation and management of coastal marine resources through science, and the education and empowerment of coastal communities. Our work is primarily implemented through collaboration with local stakeholders including local government, community groups, the private sector and local NGOs.
LINI continues to develop, field-test and refine a range of training materials to ensure their appropriateness for the many diverse coastal communities, whose needs are varied and often site-specific.
We have worked together with community groups in northern Bali to pilot reef rehabilitation programs to support Marine Conservation Areas management. Healthier reefs have been the basis for improved and sustainable livelihoods in the communities we work with. They have contributed to protecting community beaches from storm surges, providing a sustainable source for food- and ornamental fish, and creating opportunities for eco-tourism activities in the region.
Didirikan pada Januari 2008 oleh sekelompok kecil profesional yang berdedikasi, LINI adalah salah satu dari beberapa non-profit Indonesia saat ini bekerja terhadap pengembangan kawasan konservasi laut berbasis masyarakat untuk mempromosikan perikanan yang berkelanjutan di Indonesia.
LINI bekerja untuk mendukung konservasi dan pengelolaan sumber daya laut pesisir melalui ilmu pengetahuan, dan pendidikan dan pemberdayaan masyarakat pesisir. Pekerjaan kami terutama dilaksanakan melalui kerja sama dengan stakeholder lokal termasuk pemerintah daerah, kelompok masyarakat, sektor swasta dan LSM lokal.
LINI terus berkembang, lapangan-test dan menyempurnakan berbagai materi pelatihan untuk memastikan kesesuaian mereka untuk banyak masyarakat pesisir yang beragam, yang kebutuhannya bervariasi dan sering spesifik lokasi.
Kami telah bekerja sama dengan kelompok-kelompok masyarakat di Bali utara untuk program rehabilitasi terumbu percontohan untuk mendukung Marine Conservation Area manajemen. Terumbu sehat telah menjadi dasar untuk meningkatkan mata pencaharian dan berkelanjutan di masyarakat kita bekerja dengan. Mereka telah memberikan kontribusi untuk melindungi pantai dari masyarakat badai, menyediakan sumber berkelanjutan untuk ikan makanan-dan hias, dan menciptakan peluang untuk kegiatan ekowisata di kawasan ini.
WHY 'LINI'?
LINI is the Indonesian term for a "line" or connection. LINI seeks to establish firm and lasting connections between all stakeholders involved in coastal resource management. We believe that establishing and maintaining strong connections between all people involved, will lead to the development of long-lasting solutions for sustainability.
LINI adalah istilah Indonesia untuk "line" atau koneksi. LINI berusaha untuk membangun hubungan yang kuat dan langgeng antara semua pemangku kepentingan yang terlibat dalam pengelolaan sumber daya pesisir. Kami percaya bahwa membangun dan mempertahankan hubungan yang kuat antara semua orang yang terlibat, akan mengarah pada pengembangan solusi jangka panjang untuk keberlanjutan.
VISION
A future in which people recognize the richness and value of marine ecosystems as a common global resource, and in which Indonesian coastal communities are committed and empowered to care for their environment and enjoy a higher quality of life.
Sebuah masa depan di mana orang mengenali kekayaan dan nilai ekosistem laut sebagai sumber daya global yang umum, dan di mana masyarakat pesisir Indonesia berkomitmen dan diberdayakan untuk merawat lingkungan mereka dan menikmati kualitas hidup yang lebih tinggi.
MISSION
LINI's mission is to work with marginalized coastal communities to reverse the degradation of Indonesian coral reefs and raise awareness about responsible and sustainable marine resource use. We do this by focusing on: 1. Science & Education - Promoting coastal ecosystem conservation and restoration through research, education and capacity building within communities and local governments. 2. Sustainable Livelihoods - Promoting the development of sustainable and responsible fishing and marine ornamental business practices. 3. Partnerships - Providing a platform to link fishermen, the private sector, scientists and conservation actors, and governments.
Misi LINI adalah untuk bekerja dengan masyarakat pesisir terpinggirkan untuk membalikkan degradasi terumbu karang Indonesia dan meningkatkan kesadaran tentang penggunaan sumber daya kelautan yang bertanggung jawab dan berkelanjutan. Kami melakukan ini dengan berfokus pada: 1. Ilmu & Pendidikan - Mempromosikan konservasi ekosistem pesisir dan pemulihan melalui penelitian, pendidikan dan pembangunan kapasitas di dalam masyarakat dan pemerintah daerah. 2. Penghidupan Berkelanjutan - Mempromosikan pengembangan perikanan yang berkelanjutan dan bertanggung jawab dan praktek bisnis hias laut. 3. Kemitraan - Menyediakan platform untuk menghubungkan nelayan, sektor swasta, ilmuwan dan pelaku konservasi, dan pemerintah.
Meet the team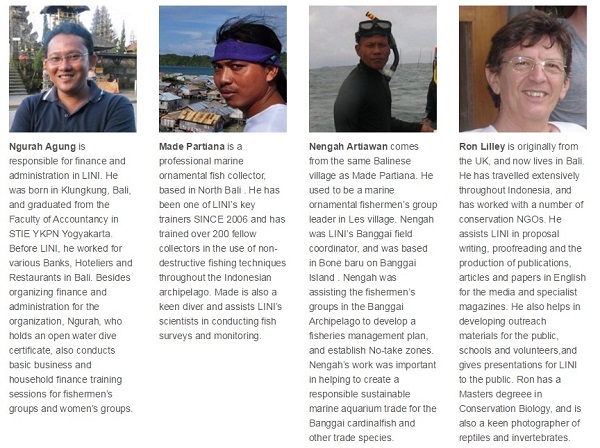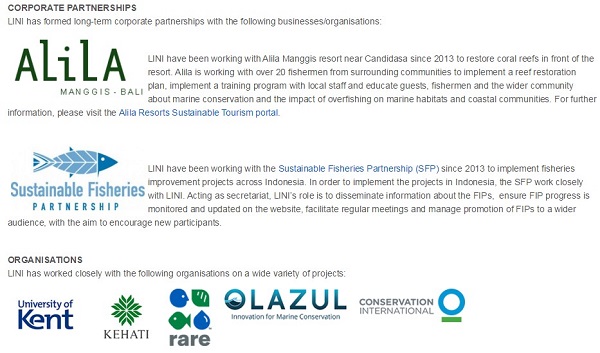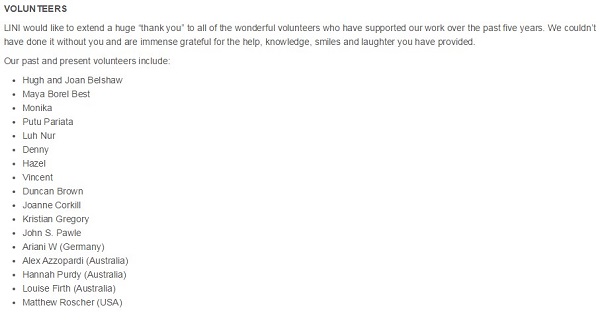 ---
Permissions in this forum:
You
cannot
reply to topics in this forum